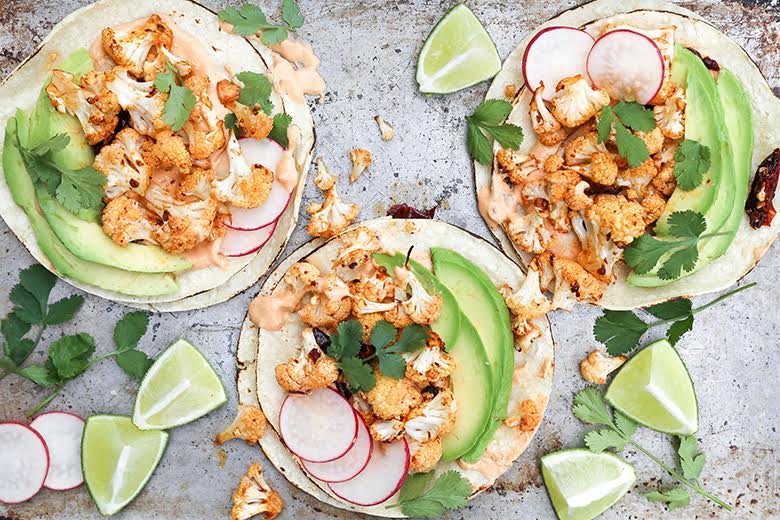 CAULIFLOWER TACOS
Who said You can't have your tacos and eat em' too?!
Cauliflower- the other, other white meat. Broccoli's albino, cooler fraternal twin.

 
Cauliflower, the hidden treasure of veggies.
If you love tacos as much as you should(you're a lunatic if you don't), then you will LOVE this week's fresh and healthy bundle. It's all delicious, but that cauliflower though! It's so versatile!
Lick your lips and prepare for what will become your lunch and dinner everyday this week:
Cauliflower Tacos, bruhhhh.
The ingredients are simple and the results are explosive.

 
Tortillas(Corn if you're boUt that Gluten Free life)
Re-fried black beans, beans they're good for your heart…
Crumbling cheese(whatever kind makes you happy)
shredded cabbage(optional but marinated in red wine vinegar is so bomb)
Secret Sauce(We prefer the eyeball method of measurement):
juice of 2 limes(squeezed)
Preheat oven to 400 degrees
Combine all "secret sauce" ingredients together. If you have a blender or food processor, it really liquefies the mix perfectly.


Separate all of the cauliflower florets and cut in smaller pieces.

In a large bowl, mix the cauliflower and secret sauce together. Whisk it with your hands to make sure it's smothered. Whisk it good.

Place aluminum foil on a large baking sheet with an olive oil base. Season the pan with salt(Abuela's trick).

Pour cauliflower on pan and place in oven for 25 minutes.
Warm your corn tortillas, layer with re-fried black beans, add on the cauliflower, red wine cabbage(optional), top with cilantro, sliced avocado, crumbling cheese….and boom, party in your mouth!