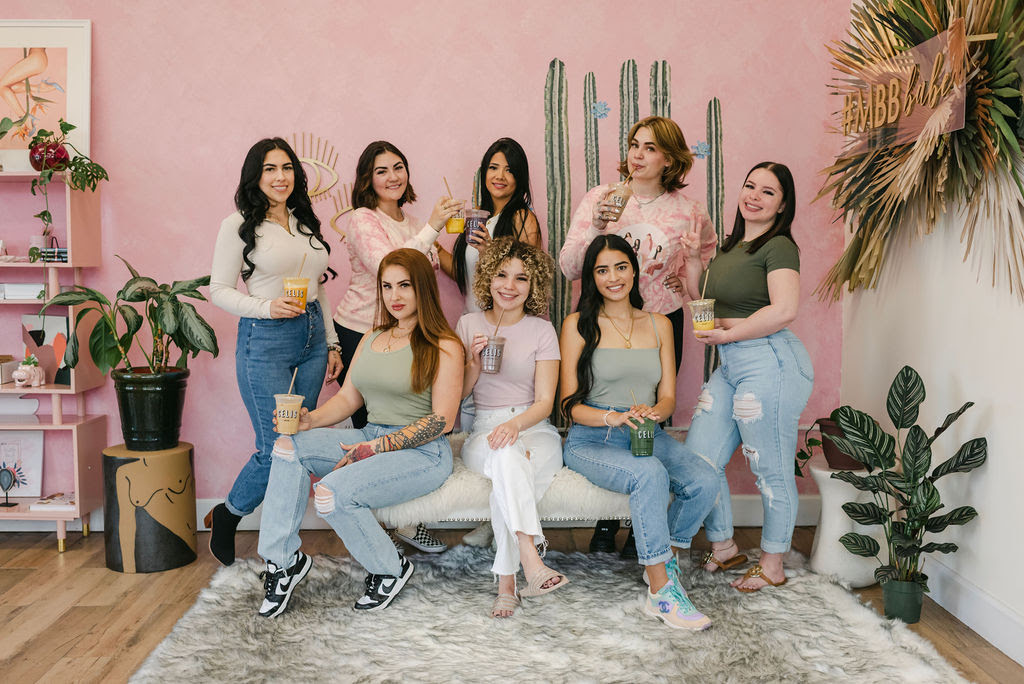 Maybelle x Celis – IWD
International Women's Day
Our parents migrated from Colombia in the mid 80's to give us a better opportunity. They sacrificed a lot, and our mom cleaned houses and offices to support us. With a heavy workload she still managed to raise 3 boys, keep our house clean and did what seemed like endless laundry. She was always glowing with joy and held our house together. It's hard to put into words the amount of respect we have for our mom. 
For international women's day we wanted to show our respect for all the bad ass women out there and our mom who we love so much. 
We teamed up with @maybellebeautybar owned by a longtime friend Meagan. She has an incredible team and has created a strong community with her brand and values. It's been such a great experience getting to know her team and more about her business. Thank you to everyone that helped us put this together and to the amazing Celis team for always supporting our ideas. 
We'll have merch available at out dixie location this Wednesday 3/8 and at @maybellebeautybar studio.  
We sat down with Megan from Maybelle Beauty Bar to talk about what it's like to be a business owner and to get to know her a little better. 
What inspired you to start a business? 
So funny enough, I've always been in the mindset of being my own Boss. I dropped out of college (even though I just needed 3 more credits to get my degree) so that I could focus on making money. I've worked for many people throughout my life and always took mental note of their leadership skills, or lack thereof. I worked for a super corporate Resort Hotel and they basically stripped me of everything that made me Me and I was miserable, working 50 hour weeks, weekends and Holidays. I did that for 2 years before I invested every last dollar I had, into taking a lash course in 2016. I left my full time job 8 months later to continue doing lashes out of my house, until one accomplishment after another led me to have this store front and amazing brand for the last 5 years.
What do you love to do? Hobbies?
I have several actually! I think it's important as a business owner to have outlets that remind you to enjoy life. I go to the gym 5-6 days a week for weight training,  I play beach volleyball with friends, and rec league co-ed slow pitch softball. I've recently gotten into reading and have a goal of reading 50 books this year. I've already completed 5 books in just January! I spend my free time watching anime, movies or traveling and being a foodie with my Boyfriend, You can also find me with my friends and their babies. I'm a proud Titi of all of my friend's children. 
What advice would you give your 21-year-old self?
Whew! This one could get deep. I think most people feel lost at 21. We're supposed to be adults but have no clue. Since you asked me to give advice to myself I'll try to keep it specific.  
Create balance and discipline early on. Mon-Thurs make it all about your needs; health, fitness, dream boards, goal journaling, manifesting, family time, cleaning your car, room, house ect. Enjoy your weekends, live it up. Make connections, be kind, be smart. Present yourself as the person you want to become. You never know what the people around you will become and you don't want to burn any bridges before they're built. Save your money. Teach yourself how to cook so you don't have to spend all your money dining out. Have  a separate savings for things you want to do, like travel. Traveling helps build character,  learn different cultures and most times you'll learn budgeting along the way. Focus on building lasting friendships, relationships come and go and if you're with the wrong one, they can bring the worst side out of you.  Protect your energy and love yourself in every stage. 
What advice would you give to the next generation of female  leaders?
Female is POWER. You can do anything. Don't let the noise distract you from your vision. You were meant for more and can do anything you put your mind to. 
What advice would you give to young women entering this profession/ organization? 
This industry is becoming oversaturated but there's definitely room for those beauty providers who are passionate, business savvy, warm and welcoming and who are eager to grow their roots in this industry. Never stop learning, never let a bad review knock you off track and keep working towards bettering yourself in all that you do. 
Your go to order at Celis?
That's easy! Turkey Sammy no tomato! Sometimes accompanied with an Iced latte with Oat Milk and 3 pumps of vanilla.
Favorite Restaurant?
During the week, You know I'm at Celis at least 2-3 times a week! LOL Other than that, I don't ever settle on 1 restaurant, I'm usually dining out at new places with good vibes and service.  I love a good Steak House or Italian restaurant that makes their own pastas and has a good espresso martini.
Favorite Cheat Meal? 
Homemade cookies and brownies! Or sloan's icecream!