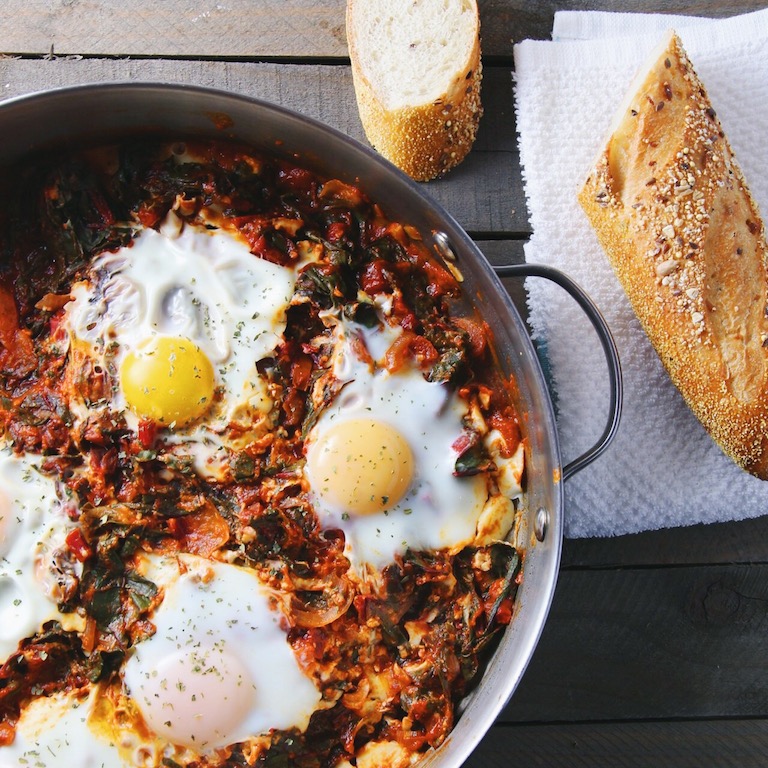 Poached Eggs with Local Red Chard and Tomatoes
Red chard is a very common Mediterranean green and it's one of the most nutritious around. Chard has a bitter and slightly salty flavor so we paired it with some fresh tomatoes and little bit of tomato paste to give it a little sweetness.
Ingredients
1 bunch red chard (chopped)
1 medium tomato (diced)
2 tablespoons tomato paste
3 teaspoons paprika
1 medium onion (sliced)
3 cloves garlic (minced)
6 eggs
Directions
In a large skillet put about 2 tablespoons of olive oil. Add the onions in the skillet and cook until they become almost translucent (about 8 minutes/medium high heat)
Add garlic and stir into the onions. Cook for about 2 minutes
Add diced tomatoes, paprika and tomato paste. Turn heat down to medium and cook for 10 minutes
Add red chard and cook down for about a minute or two.
Make six little holes in the mixture for your eggs. Add eggs and put a cover on the skillet (this allows the steam to cook the egg)
Once the yolk is bright yellow and you see the whites have cooked through, remove and enjoy!