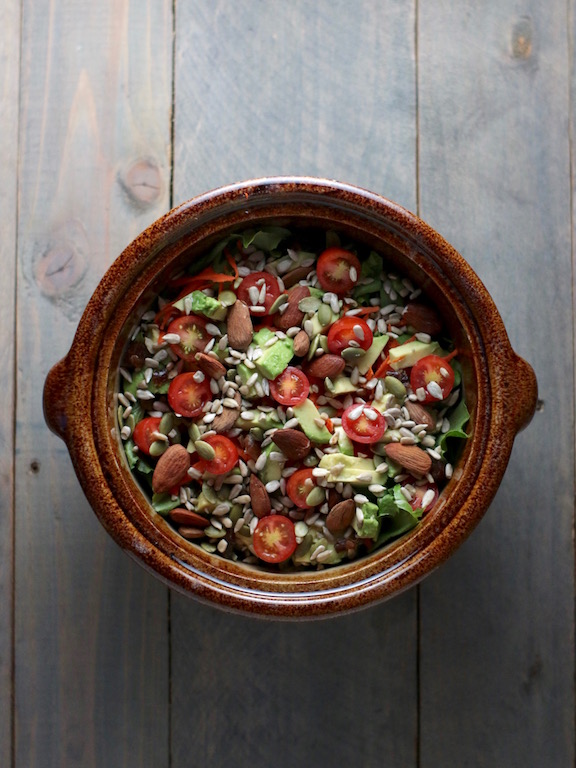 Balsamic Power Salad
I could honestly eat this salad for lunch 365 days a year for the remainder of my life and feel both satisfied and nutritionally content. Jam packed with vital proteins, antioxidants, essential fatty acids and fiber, this power house of a salad will leave you feeling like a completely different person almost immediately upon consumption. All ingredients are raw and wholesome so digestion is never an issue. Here is how you can make it at home in under 10 minutes!
Ingredients
4-5 cups of mixed greens, packed
One small carrot, shredded
6-7 grape tomatoes
1/2 ripe hass avocado
1 date, chopped
Small hand full of almonds
1 tbs pumpkin seeds
2 tbs sunflower seeds, hulled
1 tbs hemp seeds
2-3 tbs balsamic vinaigrette
Instructions
Fill a large bowl with 4-5 cups of mixed greens and the shredded carrot.
 Cut the grape tomatoes in halves and place on top of the shredded carrot.
 Cut the avocado in squares and chop the date enough so that you can sprinkle it around the salad. You should have 10-12 tiny date nibs after chopping.
Sprinkle the almonds followed by the pumpkin seeds, sunflower seeds and hemp seeds.
 Top with desired amount of balsamic vinaigrette. I used 3 tbs.